THE EOCENE'S TETHYS SEAWAY GIRDLED THE EQUATOR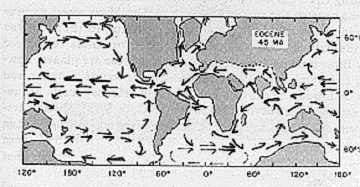 The world around 45 million years ago. Note the Tethys seaway flowing over the top of India, before India collided with Asia in the Mid to Late Eocene (around 50 million years ago).
---
The Atlantic and Arctic currents that we have today, and which produce such things as the Gulf Stream, did not exist in the Eocene.
The water from the poles would circulate in the pattern shown in the diagram. This would lead to cooler water from the polar regions being warmed as it circulated. When it came in contact with the warmer equitorial waters it would be heated and circulate back up to the poles. This maintained a sub-tropical temperature range at the poles, even during the six months of darkness in the winter, and a tropical temperature over the lower lattitudes.
---

&nbsp

---