THE EOCENE'S TETHYS SEAWAY GIRDLED THE EQUATOR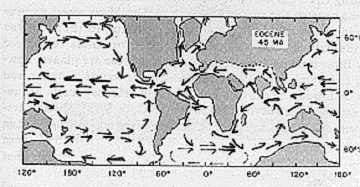 The world around 45 million years ago. Note the Tethys seaway flowing over the top of India, before India collided with Asia in the Mid to Late Eocene (around 50 million years ago).
---
The rocks and fossils from the Eocene mark a dramatic difference in our Earth's climate then compared to the climate today. For about 90 to 95 percent of it's history, the Earth has been much warmer than today. Perhaps the question should be why the Earth is so much cooler now.
The Early to Middle Eocene (38 to 55 million years ago) was a warm subtropical to tropical place. The Earth's equator was girdled by the Tethyan seaway and there was little climatic variation from the equator to the poles. At the time that these fossil forests were alive, there were no polar ice caps and the Arctic temperatures probably never went below freezing.
---

---