CARBON IN THE ATMOSPHERE OR CARBON IN THE ROCKS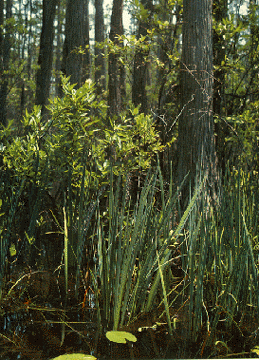 The Eocene was also a time of active plate tectonism. There was much degassing by volcanoes as they erupted. These Volcanoes put much CO2 (carbon dioxide) into the air. The extra CO2 could have caused a "greenhouse" effect.
Even more interesting is the possiblity of why the Earth began to cool in the Mid to Late Eocene towards the temperatures of the "ice house". There are many coal beds associated with this time. Perhaps all these remains of swamps, and high biotic activity locked up the carbon in the rock record, removing the "greenhouse" gas.
Swamps similar to this one today, could have locked up the carbon in the atmosphere, leading to a cooling of the climate.
---

---