General HADROSAUR Information
ORDER:Ornithischia
SUBORDER: Ornithopoda
FAMILY: Hadrosauridae

---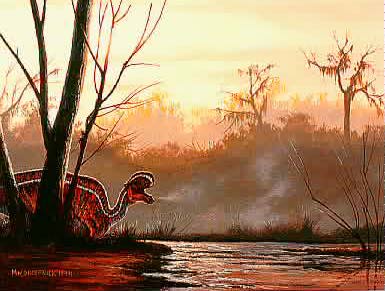 Figure 1 (right)
The term hadrosaur was derived from the Greek roots meaning "heavy lizard".
They are popularly called "duck-billed dinosaurs".
By dinosaurian standards, most hadrosaurs were about twenty-five feet (8m) long which is about the size of an Indian elephant.
They were members of the Onithopoda.
Close relatives and possibly descendents of the earlier iguandontid dinosaurs.
Ornithopoda are a group of medium to large plant-eating dinosaurs.
Ornithopods are one of three major groups of Ornithischian or "bird-hipped" dinosaurs.
Did you know...
---