Day Fourteen, March 7, 1997: Antigua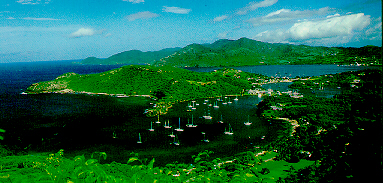 English Harbor, Antigua
The Captain had wanted to sail into Antiguaâs English Harbor under full sail, but the conditions were not right, so we did not. We arrived around 8 a.m., and entered under motor. Green watch was assigned to drop the anchor one more time, it was only fitting. But everything did not go very smoothly. Unfortunatly, one of the mooring lines had slipped into the water and under the ship, it wound around the propeller, at that same time, the Captain was about to throw the motor into reverse. It could have been disastrous, we would have ripped the rotor off and possibly destroyed the motor. We were adrift in English Harbor, surrounded by other sailboats, our anchor was not holding fast, slipping slightly, and now no motor, this was not the best scenario, nor was it how we wanted to end our sailing. Sean donned his tank and scuba gear, to alleviate the problem.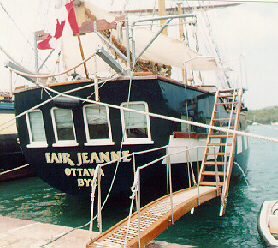 We were very lucky, no damage and within twenty minutes we were untangled and ready to once again dock. We anchored, tied up our mooring lines, set down the cat walk, and made preparations to relax. We setup a vestibule to sit under so that we would be out of the sun's heat, and began our clean-up. We cleaned up for a while, but many of us urged for town and a little culture.
A note to cleaning, the inset picture to the left is of the ship's bell, which I must say, tarnishes much too fast to warrant having it upon a ship. We polished that bell until it shined like the sun, always with the Captain watching over us, as we polished.
After a hard afternoon of swabbing the decks and polishing the brass we headed off to town. Once we reached St. John's, we decided we would stay and hang out for a while.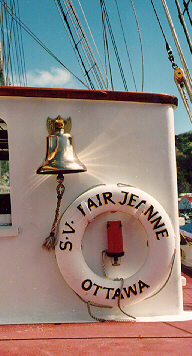 From there we moved on and checked out the street vendors of necklaces, beads, and other souvenirs. It was there that we met up with some of Red watch and White watch. We headed back to the bus stand, and paid a couple of bucks to get back to English Harbor.
We were a short walk from the marina, John took us on a tour of these amazing multi-million dollar ships. They were corporate charters, and they just gleamed even at sunset. Most of the ships had intricate woodwork which had 20 or 30 coats of varnish, very well maintained. WOW!