Carleton University Students Visit Burgess Shale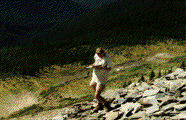 In May of 1995, several geology students from Carleton University were engaged in a two week field course (67.487) that was carried out in and around the foothills of Alberta. The camp included a guided hike up to the Burgess Shale in Yoho National Park, sponsored by the Yoho-Burgess Shale Foundation. The 18 km hike began in the morning and ended in the evening. The day was spent admiring the many fossils from the tallus below Walcott's Quarry (as is evident by the accompanying photos) as well as listening to informitive lectures given by the tour guide on the shale and surrounding area.

Rare fossils were hard to come by but many fossils of Marella,and Ottoia were found. Unfortunately, it was not permitted to take souvenirs.

I did not have the opportunity to take part in this excursion. However, all of the students present expressed high praise. I would particularly like to thank Pat Brennan, a student who did take part in the trip, for her photographic contributions to this page.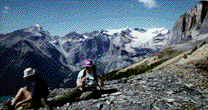 For those unable to take part in the trip, and who would like to learn more about the Burgess Shale, there is an excellent display on the Burgess Shale (including a wide array of excellent specimens) in the main foyer of the Department of Earth Sciences on the 3rd floor of the Tory Building at Carleton University. For those among the global audience unable to visit our department I hope that my virtual display is informative.






---
Return to table of contents