Introduction

The Burgess Shale is a middle Cambrian Lagerstatten. It is located in beautiful Yoho National Park, British Columbia, high in the Canadian Rockies. The ridge where the Burgess Shale is found is between Mount Field and Mount Wapta, at an elevation of about 3000 feet.


---

It is possible to hike to the Burgess Ridge via a 4 mile trail. Although a strenuous upward climb at times, the view from the top is exceptional and well worth the effort. If you look down below, you will see breathtaking Emerald Lake with the President Range just beyond.

In 1981, the Burgess Shale was declared a World Heritage site. Because many scientifically valuable fossils still remain to be discovered at the site, collecting of specimens is strictly fobidden. In fact a permit must be obtained to enter the quarries.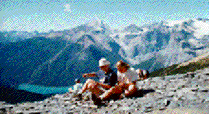 For more information on activities and hikes offered by the Yoho-Burgess Research Foundation, contact: Yoho-Burgess Research Foundation
P.O.Box 148
Field,B.C.
V0A 1G0
Canada
(604)343-6480 (voice)
(604)343-6426 (fax)


---
View of the Cambrian world
Return to table of contents