Caulerpa racemosa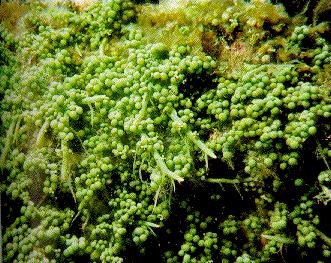 Caulerpa:
Genus with rhizoids all generally similar in structure, but with a wide variation in shape and structure of the erect portion. This is the most frequently encountered genus of seaweeds in Bermuda.
Caulerpa racemosa
Species form colonies with erect branches and rhizoid bearing stolons. This species is characterized by having stolons of rather coarse and tabular construction; erect branches composed of clusters of club-shaped or spherical filaments. Short forms (3-5 cm) resemble grapes; other varieties with main branches elongate (8-15 cm), and bear the branchlets along their entire length.
One of the most frequently encountered green algae; it forms clumps on rocky shores, reefs, seawalls and occasionally sandy bottoms; it tolerates extreme wave action, but is usually dwarfed in such habitats; best growth in spring and winter.