TRANSITION BETWEEN FISH AND AMPHIBIAN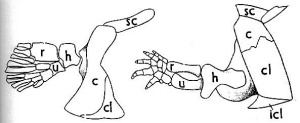 The transition between fish and amphibian was a slow and gradual process and the diagrams shown show the results of the minor adjustments made between the skulls and forearms.
These adjustments made it increasingly easier for these early amphibians to walk on dry land.
Certain features that develop in fish to better equipt themselves as fish, like lobed fins or lungs, is due to preadaptation .