THEORIES FOR LAND TRAVEL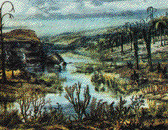 Theory one: Devonian known for its red beds. It was thought that they were formed during dry and arid conditions during the Devonian, therefore, the relatives of the lung fish suffered seasonal droughts. It was believed that they used land travel to cross the land to other ponds. Fins soon turned into limbs which was better for land travel, therefore travelling on land was a response to conditions of the time.
Theory two: The red beds from Greenland were thought to have formed during moist, tropical consitions. Walking on land, therefore, was a response to laying eggs in isolated muddy ponds where preditors couldn't find them.