EARLIEST TETRAPOD RECORD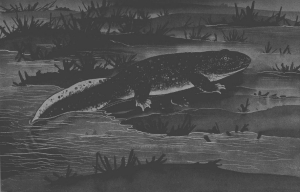 Ichthyostega means 'fish plate' because the roof of the skull was shaped like a fish plate.
This is considered the most primative of all tetrapods.
Acanthostega means 'spine plate' because of prongs found at the back of the skull.
This is a type of jawless fish that is under debate as to whether it can be considered the more primative tetrapod.