Purpose of the Crest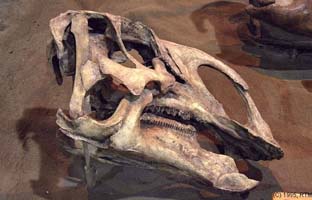 Some paleontologists have suggested that the chamber functioned as a reserve supply of air that could be drawn upon during submersion in water.

It was believed that the narial passages in the hollow crested hadrosaurs functioned to remove particles, to humidify and provide a sense of smell (olfaction).
It was also believed that the crests were simply organs of display (form of communication-warn of danger, advertise abundant food supplies, attract mates, communicate with their young and defend their territories).

The solid crests could serve for visual recognition, and the hollow crests, with their extensive bony chambers, could have served as resonating chambers for producing sounds as well.
Did you know...

---