Day Four: February 25, 1997: Sailing from Barbados to Union Island
We set sail at 10:30 the night before, the watch system was underway, Red Watch, followed by Green watch, and then White watch, and then the cycle repeats itself. The ship is sailing, and special thanks to Matt, who clambered all the way to the T'Gallant Brace to unfurl the square sails, with the guidance of watch officer Ms. Galloway, so that we could raise the square sails. Green watch came on at midnight, and we had the answer to the one question that had been on all of our minds. A lot of us were sick that night - except for the professors of course who have stomachs of iron., but everyone made a commendable effort to do as much as they coulto help sail the ship. Some people hopped on the boat with no problem while others had to earn their sea legs. With this being one of our longest voyages, and our first.
Captain of Fair Jeanne: Alex Mulder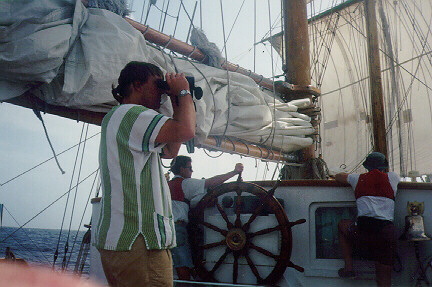 There is something to be said about sailing through the vast ocean, with no land in sight. For those of us who had never sailed before it was an amazing experience. We all soaked it up, and tried to take in every moment while sailing. The captain stayed on deck, and constantly checked the ocean to make sure we were on course.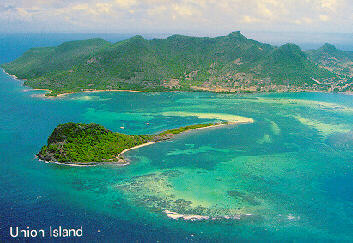 We sailed 17 hours, arriving at Union Island, at 2:30. The captain, Tony and Tim, went to shore to clear customs, while those who were inclined went for a snorkel. The current was strong, and most of us just made it out to the sea grasses. We swam around there for a while, but most of us were tired from sailing, and headed back to the ship for dinner.
Tonight we began what was called anchor watch. Whenever we were anchored in port we were still on duty, having to maintain and care for the ship. During anchor watch we completed safety checks every half hour, and checked our bearing to make sure we were not drifting into shore, or onto other vessel.