Day Eleven, March 4, 1997; Sailing for Montserrat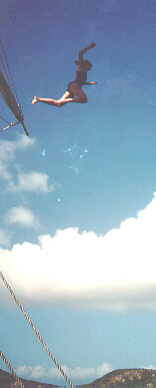 We set sail for Montserrat at 6:00 a.m., Red watch got us underway, once again they were able to raise the anchor without Green watch and of course they raised the sails.
We sailed all morning, and reached Iles des Saintes, just off the coast of Guadeloupe. The captain decided that we would learn how to sail into a harbor without the use of the motor. So we ran the wind as far as we could and then tact into the wind, to get back upstream.
The captain stayed at the back of the ship, with his bullhorn barking out orders: "Are you ready??"

"Aye, ready captain!!"

"HELM, HARD TO PORT !!"

Gene quickly cranked the helm in the direction we wanted to turn.

Then the Captain bellowed further directions "IN ON THE HALLIARDS, OUT ON THE DOWNHALLS!!, NOW TURN YOUR BRACES, IN ON THE PORT BRACES AND OUT ON THE STARBOARD BRACES!!"

"AYE CAPTAIN!!"
It took the entire crew (23) maneuvering in unison to turn and control the ship so that we continually caught the wind. As a team it was quite an exhailerating thrill and worth all the hard work. We pulled into the port at Iles des Saintes, and as usual, the Captain yelled Green watch to the anchor please, Red watch to sails.

We came in under sail, and as usual, every one of the boats in the harbor stopped what they were doing, and watched as we came in. It was such an awesome feeling to be the spectacle in the water. We had three hours to have fun, and take a break before the ship was going to sail again. So those of us brave enough to make a coarse yard jump took turns. To the right is a picture of Jessica taking the plunge from the coarse yard. After everyone going who wanted to, we went swimming and touring the reefs. Before long though we were back onboard, and sailing back out to Montserrat.