THE OTIC NOTCH/ QUADRATE BONE/ FOSSAE
AND THERE RELATIONSHIPS:

THE RESULT OF THE TWO DIFFERENT TYPES OF QUADRATIC BONE THE FOSSAE:
The Fossae is in the temporal region of the skull. The function of the Fossae is to accommodate the jaw-closing muscles when they contract. If you want to know were your fossae is, place your hands on the side of your head above your ears. Then open and close your mouth. The part of your head that moves along with the movement of your jaw is the muscle that is connected to the Fossae area of the skull. All amniotes have lateral Fossae, except for the Cotylosauria and Chelonia(tortoises and turtles). The positions of the fossae vary, but are extraordinarily constant within the major groups of amniotes. These variations are used to classify the Reptilia into their major taxon.
---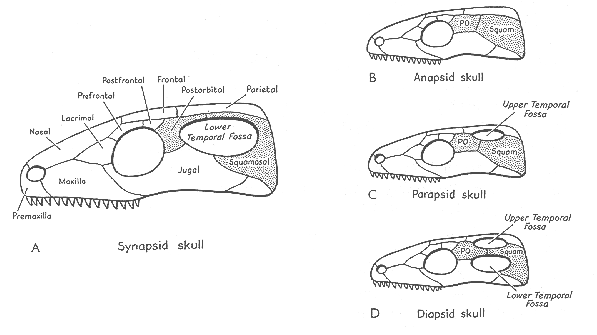 A) Synapsid skull - only Therapsida have this type (Mammals and mammal-like reptiles).
B) Anapsid skull | - Sauropsida of the amniotes
C) Parapsid skull | (reptiles and birds)
D) Diapsid skull..|

---

This difference in the skull is used to separate the Mammalia group from reptiles and birds. There are also many other differences, but this is the major difference, which is used by palaeontologist. Most make note that both reptiles and birds share similar type of skulls. Part II deals with the CHARACTERISTICS OF BIRD, which will help in identify the differences in reptiles from birds. But more importantly help understand and apperciate the evolutionary process that had to have gone on to create such an animal group.