DISTIBUTION IN TIME & SPACE -pg 3.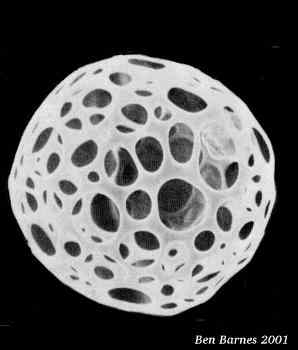 A huge proliferation of Radiolaria occurred in the Mesozoic, with more than ten major speciation events. About half of the groups existing today are descendants of those that evolved during the Mesozoic. The first indisputable Nassalleria appear in the Triassic. Common polycystine Radiolaria found in the Mesozoic include the Amphipyndacids, Dictyomitrids, and Hagiastrids, all in the order Spumellaria, distinguished by having a spherical skeleton.

The third era of the radiolarian fossil record begins at the Cretaceous-Tertiary transition. The major reorganization involved some extinctions in the late Mesozoic, but not the drastic reduction characteristic of most other planktonic fossils. The transition is characterized instead by major radiations of the Cenozoic groups. This rediversification in Radiolaria was probably due in part to environmental pressures from the rediversification of Foraminifera and other planktonic groups after the Cretaceous extinctions.

[1] [2] [3] [4] [5]