INTRODUCTION

Pictured below is a view from the Champlain Lookout in the Gatineau Provincial Park. From this point, which is approximately 335 metres in elevation, one can see the Ottawa River Valley extend below for many kilometres.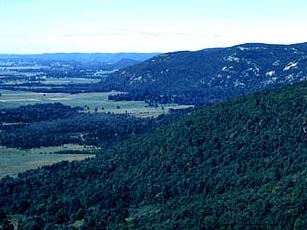 It may be difficult to believe that thousands of years ago, this valley, along with most of what is referred to as the Ottawa-St. Lawrence Lowland, was covered by an immense sea and was inhabited by marine organisms such as seals and whales. It is a fascinating topic that has stirred the interest of many a scientist and, consequently, has resulted in great amounts of research done in the quest to unravel its history.
This web page is intended to bring together information in order to introduce you to the history, lithology and paleoecology of the Champlain Sea. Hopefully it will also lead you to a better understanding of an important event in the geological history of the Ottawa region.
If you have any questions or comments, please feel free to email me at mburkhol@chat.carleton.ca I hope you enjoy your virtual tour through this exhibit of the Hooper Museum.